400! Woo Hoo!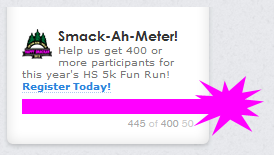 You Did It! We knew that there were lots of Happy Smackah's out there!
What a fantastic community we have. In support of Kaylee and Aubree Adams we set a challenge to get to 400 participants for the 2012 Happy Smackah 5k Fun Run – and you responded by blowing out the Smack-Ah-Meter!
You know what that means we need to do next right? Keep spreading the word!
We've fixed the Smack-Ah-Meter and set our new goal for 500 Happy Smackah racers. There is still a week left to register – this is a gimme! Let's see how many more Happy Smackah's we can get to join us!
Thank you for your amazing generosity and support. We look forward to a great event on May 12th. On to 500!