5th Annual Happy Smackah Announced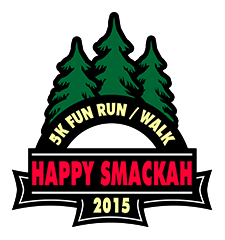 The Happy Smackah planning committee is excited to announce that the 5th Annual Happy Smackah 5K Fun Run / Walk will take place on May 9, 2015.
The mission of the Happy Smackah foundation is to benefit individuals in the St.Vrain Valley School District who are in need.
Dan Cribby, our Chief Happy Smackah and first ever Happy Smackah 5k Fun Run beneficiary, is responsible for the expression "Happy Smackah".  This refers to someone who is filled by the simple joys of life.  They live their lives with a positive attitude, with a no-nonsense/no-excuses life, and take joy in life's little treasures.

In 2012 the Happy Smackah family grew with the addition of two amazing and courageous girls, Kaylee and Aubree Adams.
In 2013 the Happy Smackah family proudly added Andy Barela.
Last year brought us Jill Woo Ching as our inspiring 2014 Happy Smackah.
Our next step is to select a beneficiary for 2015.  We will be kicking off our search soon, and we will notify you as soon as we open up for suggestions.
Our mission is clear.  We, the Happy Smackah Volunteers, sponsors and our community, are proud to serve this community.  To be able to contribute and share with this community is a gift.  Thank you for helping us support the next Happy Smackah.
If you are interested in sponsoring the event, please visit our Sponsors Page.
Thank You!
The Happy Smackah Volunteer Team