Come and Get Them! Santiago's Burritos!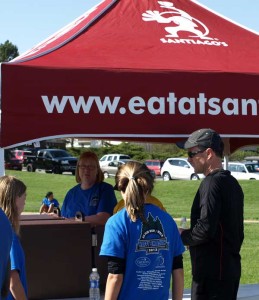 We love Santiago's as much as those who voted their green chili the best in the state!
We love their delicious, fresh food and we love that these community minded, generous business owners have sponsored the Happy Smackah since its inception in 2011.
This is the second year that Santiago's has been an Event level sponsor and we are extremely thrilled and grateful for their continued support.
Santiago's will be one of the vendors at the finish line of this year's event, so be sure to stop by their booth to purchase one of those famous, mouth watering breakfast burritos.
Of course, you should also visit their restaurant on South Main when you're in the mood for a delightful Mexican breakfast, lunch or dinner.  Thank you Santiago's, you're the best!