Longmont Fraternal Order of Police Lodge 6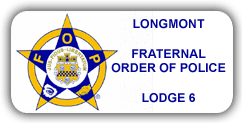 Police officers have one of the most difficult jobs there is. They valiantly serve the community by protecting us from those who would do us harm. They are who we call on and count on when there is an accident, an emergency, or all manner of dangerous situations.
Generally, we are good at remembering to thank teachers, veterans, doctors and others who help and serve us. Let us not forget to acknowledge our outstanding police officers and among those, our dedicated and hard working school resource officers.
We are honored that the Longmont Fraternal Order of Police has chosen to sponsor the Happy Smackah. They even have the Happy Smackah logo linked to our website on the home page of their own website. How cool is that?!!
We encourage you to thank them by visiting their website to learn more about F.O.P and to gain a better perspective of the life of a police officer and the work of this organization.
Thanks to Longmont Fraternal Order of Police Lodge 6 or their support of the Happy Smackah!