They're BAAAACK… Smackah Stick-ahs!
Everyone wants a Smackah stick-ah!
StickerGiant.com is the leader in Quality Custom Stickers printed Wicked Fast and shipped to your door.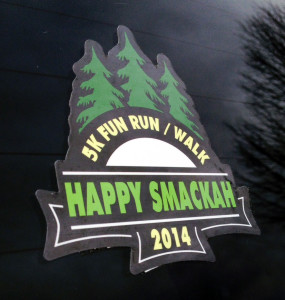 Not only is StickerGiant sponsoring our 2014 event, but they are for the third year, providing free stickers to every participant in the Happy Smackah!
Think how cool this sticker will look – on your car, on your locker, in your house, on your laptop, on your forehead – well, anywhere you like. Tell the world you are a Happy Smackah with a sticker – register today!
Thank you StickerGiant for your ongoing support of the Happy Smackah!
If you haven't signed up yet for the 2014 Happy Smackah 5k Fun Run, we know you will now! See you there on May 12th!