Top Reasons to Register
The 2014 Happy Smackah 5k Fun Run / Walk is just days away.  Here are the Top 10 Reasons to Register for the Happy Smackah 5K today!
10) Stick-ah's!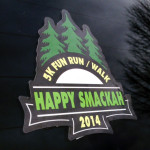 Back by popular demand,  courtesy of our fourth-year sponsor StickerGiant, every participant gets their very own Happy Smackah logo sticker!
Everyone loves stickers – make it to the finish and get yoursh!
9) Purple Happy Smackah Tee Shirts!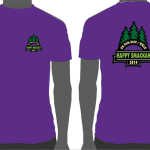 Skazma, a four-year sponsor of the Happy Smackah 5K, will again equip every participant with a fantastic tee shirt – a perfect way to remember the great time you had at the event!  There is a technical shirt available as well!
8) Santiago Burritos!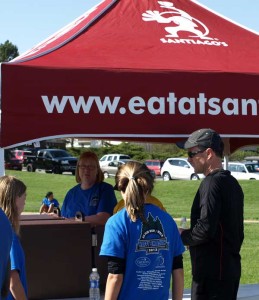 Santiago's, a proud four-year sponsor of the Happy Smackah, will be selling their famous Breakfast Burritos at the finish line.
Be sure to bring a few extra bucks to enjoy some "post-race protein" done right!  Everyone loves Santiago's!
7) Face Painting!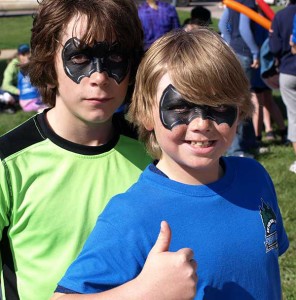 For the third consecutive year, Face 2 Face will be attending our 5K event and will be setup at the finish to provide complimentary face painting.
If you can think it, Face 2 Face can paint it!
6) All Your Friends Will Be There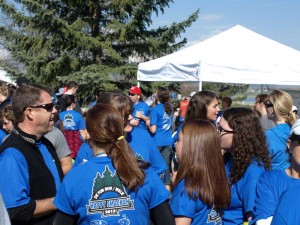 The Happy Smackah 5K has become a great community event and tradition in the St. Vrain area.
Don't be left out – all of your friends are sure to be there.  Come join them!
5) Perky's Coffee & Treats!
Every year Perky's Coffee of Longmont makes sure our participants are well-fueled for their tour around Lake McIntosh.
Always setup at the 5K Fun Run / Walk Start area, you can get your Perky's fix – with Coffee, and snacks!
4) A Smackah Reunion!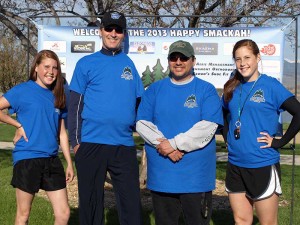 Join our former Happy Smackah beneficiaries – Dan Cribby, Kaylee & Aubrey Adams, and Andy Barela at the event.  They are all setting out to do the full 5K loop around Lake McIntosh.  So why don't you?!
3) Custom HS Race Bibs!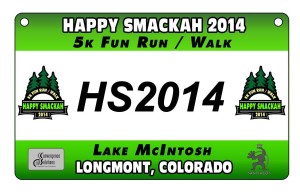 Register today and you have the best reason ever to use the official Happy Smackah Race Bib maker.  You can instantly get a custom HS  Race Bib to print at home and bring with you to the race!
2) Blow Out The Smack-Ah-Meter!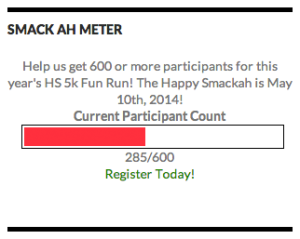 The Smack Ah Meter can be found at the Happy Smackah site – and it is time to OVERLOAD IT!  Let's see if we can break the Smack-Ah-Meter. How fast we can get to 600 Smackahs for the 5K to show our strong support for Jill Woo Ching? C'mon, Let's Go!
  1) Supporting Jill Woo Ching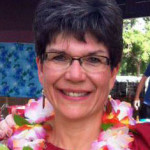 The mission and spirit of the Happy Smackah is to help our fellow community members in need. From our experiences with Dan Cribby, Kaylee & Aubree Adams, and Andy Barela we have learned we have a community of strength, love, caring and hope.
Let's come together again to help out this year's Happy Smackah, Jill Woo Ching and her family, who need our support now.
All that is missing is YOU!  And your family, friends, neighbors, cousins, grandparents, bosses, and anyone else you can bring!  Register Today!