Whoa… 500!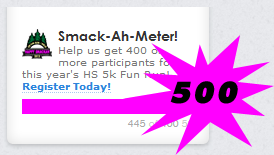 Man, that did NOT take long… we posted earlier TODAY when we hit our original goal of 400 Happy Smackah participants for the 2012 Happy Smackah 5k Fun Run – and KABAM – here we are late in the day and we've just crossed 500! W00t!
Like we said – when you hit a goal – celebrate and move on! Next stop 600!
Many of you may have come aware of our event through today's Times Call features on our current and past Happy Smackahs. If not, be sure to check them out!
Thanks to all in the community stepping up to help!