Register through Online Registration or use a Print Registration Form.
When:  Saturday October 10th, 2020 at 8 AM
Where:  Lake McIntosh in Longmont
Registration Fees:
Child (5 and Under): $1
Youth (6 to 12): $15
Teen (13 to 17): $25
Adult (18 to 54): $35
Senior (55 and Over): $25
The Happy Smackah 5k is an untimed, Fun Run / Walk around beautiful Lake McIntosh in Longmont. All event participants (excluding late registrations) receive a Happy Smackah event Tee Shirt. The event starts and finishess towards the West End of Dawson Park, near Lakeshore Drive and Cove Court.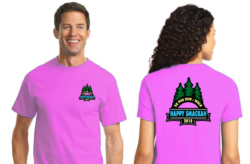 Any questions or issues, contact info@happysmackah.com.
Thank you for supporting Happy Smackah!